This is a work in progress, many things still need to be properly translated, I'm missing some dates, and I need to research more, etc.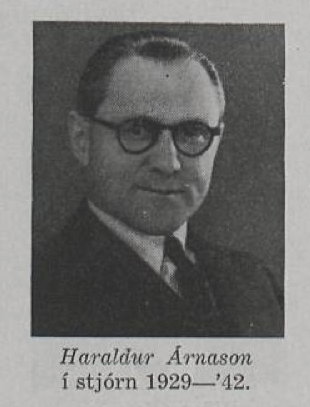 The first mentions of Haraldur are in 1904 and over the next few years (until he officially opened his own shop, when he became a lot more popular) his publicity started to increase, but at that point he apparently was a travelling merchant. Trips to the Faroes, Denmark, and England are mentioned early on, later New York is mentioned. On the 27th of May, 1909 he helped to start a clothing shop in Garðarshólmi by Hverfisgata, called Dagsbrún. For three and a half years before this he studied shopkeeping in England, although it seems from the articles that he might have also been some kind of small-time merchant even before studying.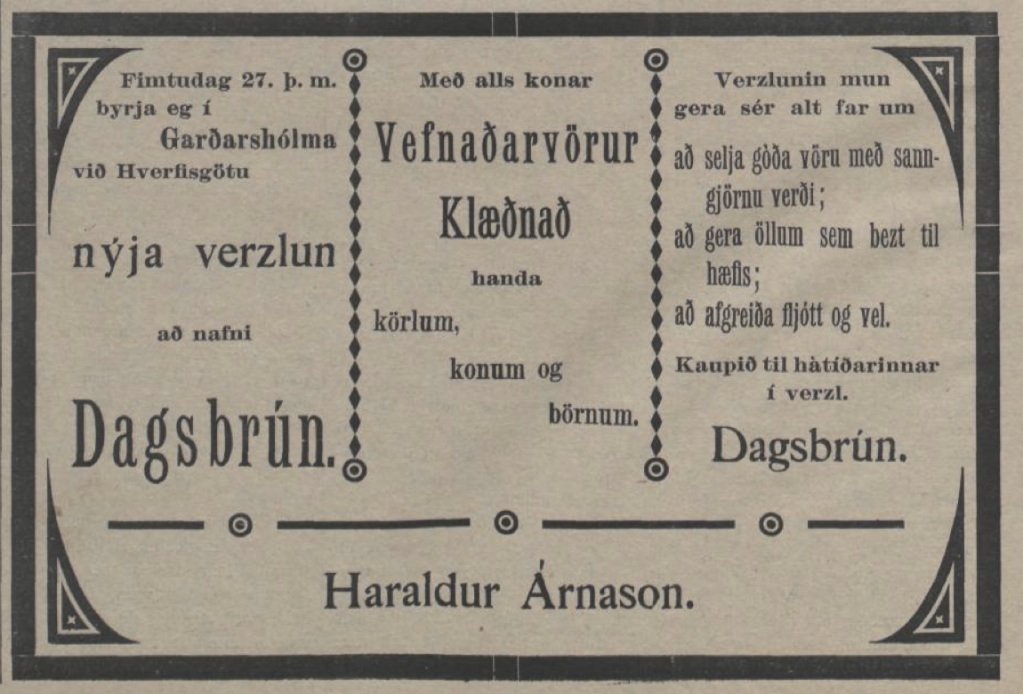 22nd May, 1909. An ad for Dagsbrún. (loosely translated) "Thursday the 27th I'm starting a new shop on Garðarshólmi by Hverfisgata called Dagsbrún. With all kinds of clothes for men, women, and children. The store will do all it can to sell good, honest wares with good prices, and to have fast and good service." The idea of "good, tasteful, honest wares" is something he repeatedly wrote in various advertisements across the years.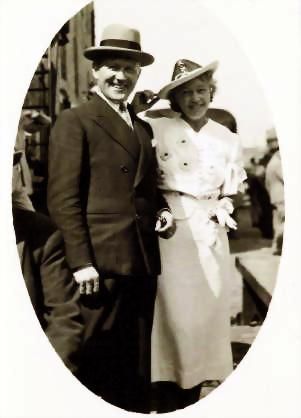 Haraldur and his wife, Arndís.[3] In the newspapers they almost never mentioned his wife by name, instead just saying "Haraldur Árnason and wife".
On January 1st, 1912 he became the manager of two shops on Hafnarstræti, which then merged into a single shop in 1914 at what's now Austurstræti 14[1?]. On the night of April 24th and continuing on into the next morning, ten houses on Austurstræti and Hafnarstræti burnt down in a fire that started in Hótel Reykjavík, swiftly leading to a change in housing rules where timber was not allowed as a building material inside the capital[2]. Haraldur's building was one of the ones destroyed in this.

"Austurstræti 14, at the corner of Austurstræti and Pósthússtræti shortly before the big fire. Hótel Reykjavík to the right.[2]" I'm not sure this is even the same shop because it says "at what is now 14″ instead of what was 14 at that time, so I need to research more.
They re-opened the shop in Gunnar Þorbjarnarson's house on Hafnarstræti 4. Around then the shop was actually sold to Haraldur, before that he just helped manage it. On the 1st of September, 1915 the shop was renamed to "Haraldur Árnason" (at least in those days it seems it was common enough for the shop title to just be the owner's name). A month later it moved to the old "priest school" (Prestaskólann), on Austurstræti 22, which he first rented then finally bought two years later.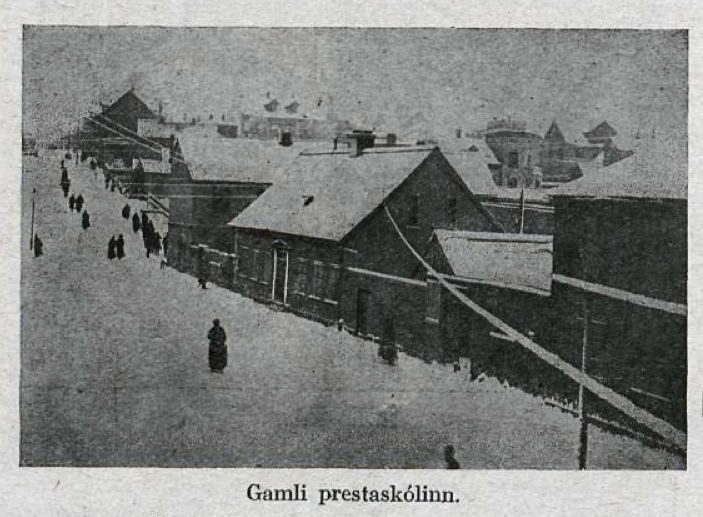 The old priest school, photo date unknown. By (date) it had gone through so many changes that it was basically unrecognisable compared to this photo, but was one of the oldest buildings in Reykjavík and was originally built in 1802.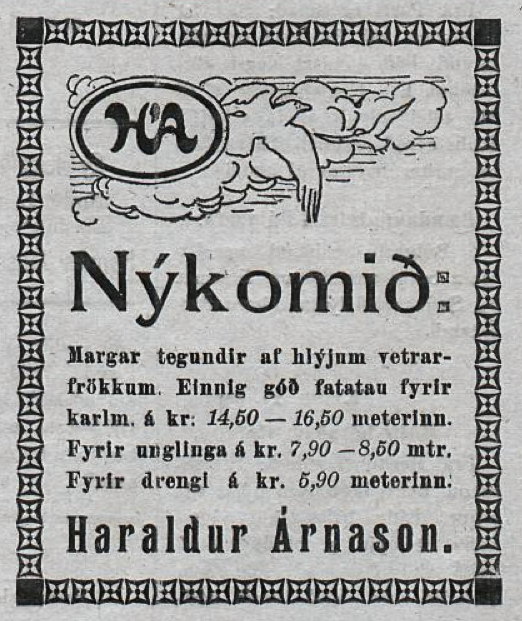 September 1923, the earliest time so far that I found the logo of his initials used in print. "Coming soon: Many types of warm, winter jackets. For men 14,50-16,50 crowns per meter(?) (16 crowns and 50 aurar, or 16 and a half crowns – the money system was different back then), youth 7,90-8,50 crowns, boys 5,90 crowns."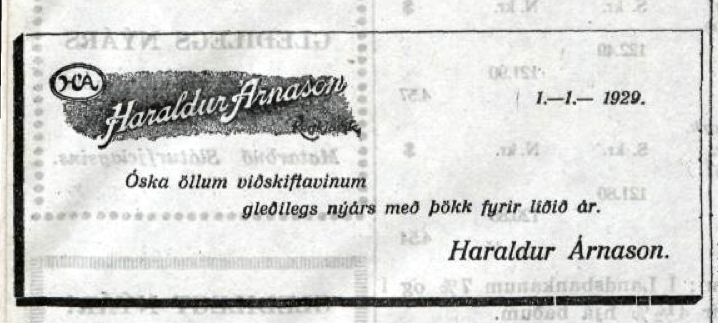 1st of January 1929, wishing everyone a happy new year. You can see the logo style of his full name, which stayed this way until later on when the shop was renamed in around 1940.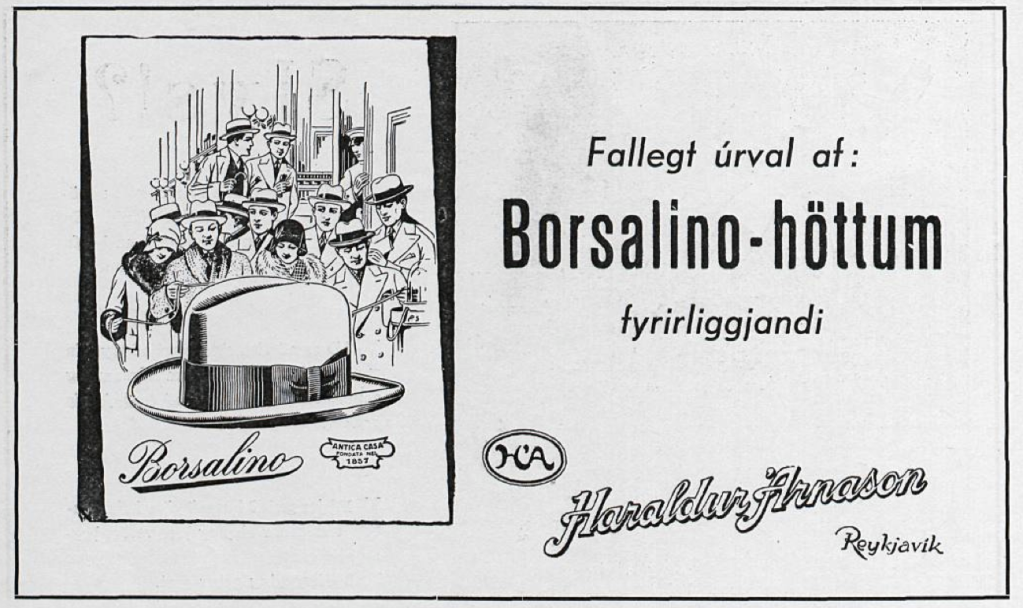 1938. "Beautiful selection of Borsalino hats coming in this week." He also sold hats from other famous European brands such as Mossant and Christys (typo'd at least once as "Chrestys").

(date) "French, black clothes of all kinds of the best type. Silk for traditional clothing, shirts, and aprons. Women's items of various types. Silk corduroy, beautiful and very proper for traditional Icelandic clothes. Honest/good-quality and well-chosen wares."
In 1928 it moved again to be on the corner between Lækjargata and Austurstræti. The business was eventually divided in two before the man's 50th birthday in 1940 (haven't found a correct exact date so far). One part was called "Haraldarbúð" ("Haraldur's Shop") which continued to sell clothing, and the other was "Haraldur Árnason, Heildverzlun" ("heildverslun – wholesale" ?) which sold other items too and was at Laugavegur 116.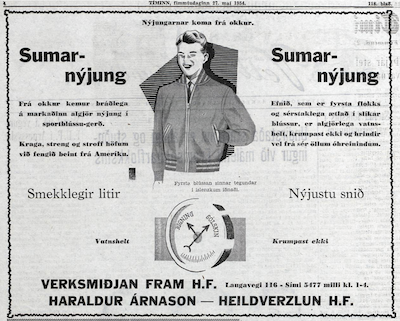 27th May, 1954. Ad for the Heildverzlun part, advertising clothing for all weather conditions. Notice that the phone number is 5477 by this point.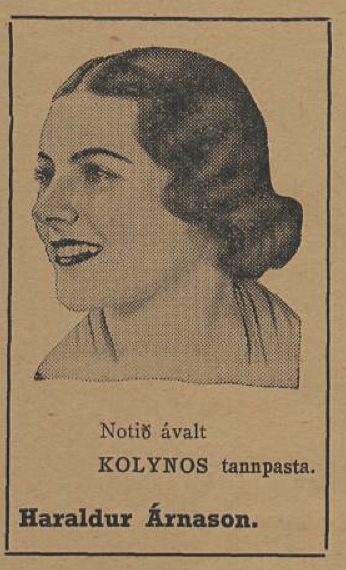 (date) Ad for Kolynos-brand toothpaste.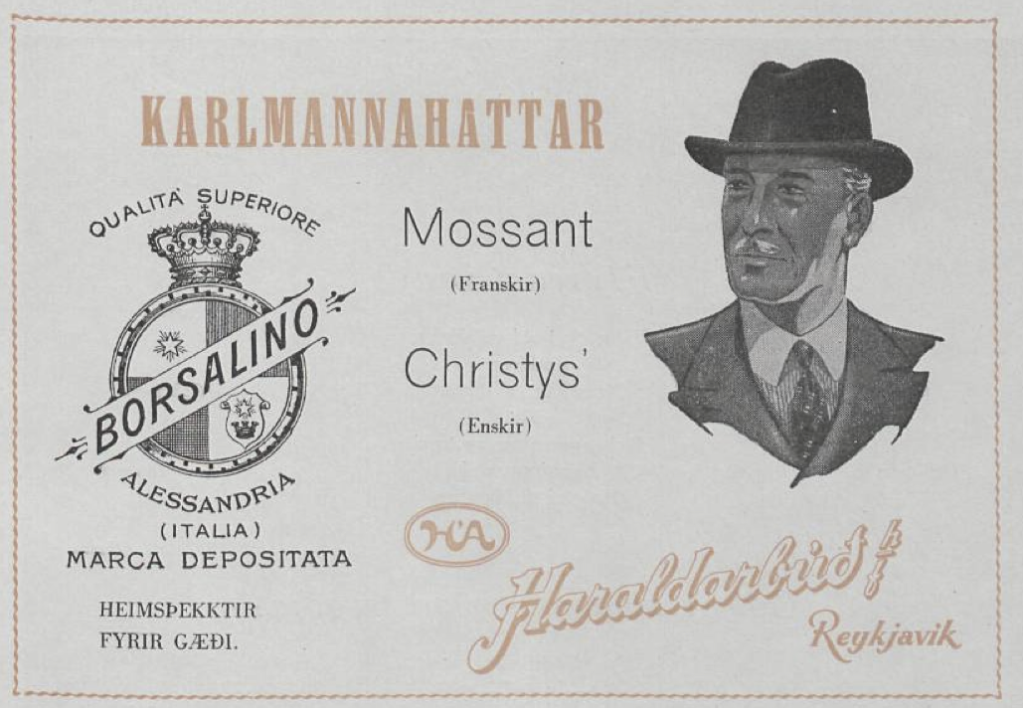 (date) "Men's hats. Mossant (French), Christys' (English), Borsalino (Italian). World-renowned for quality."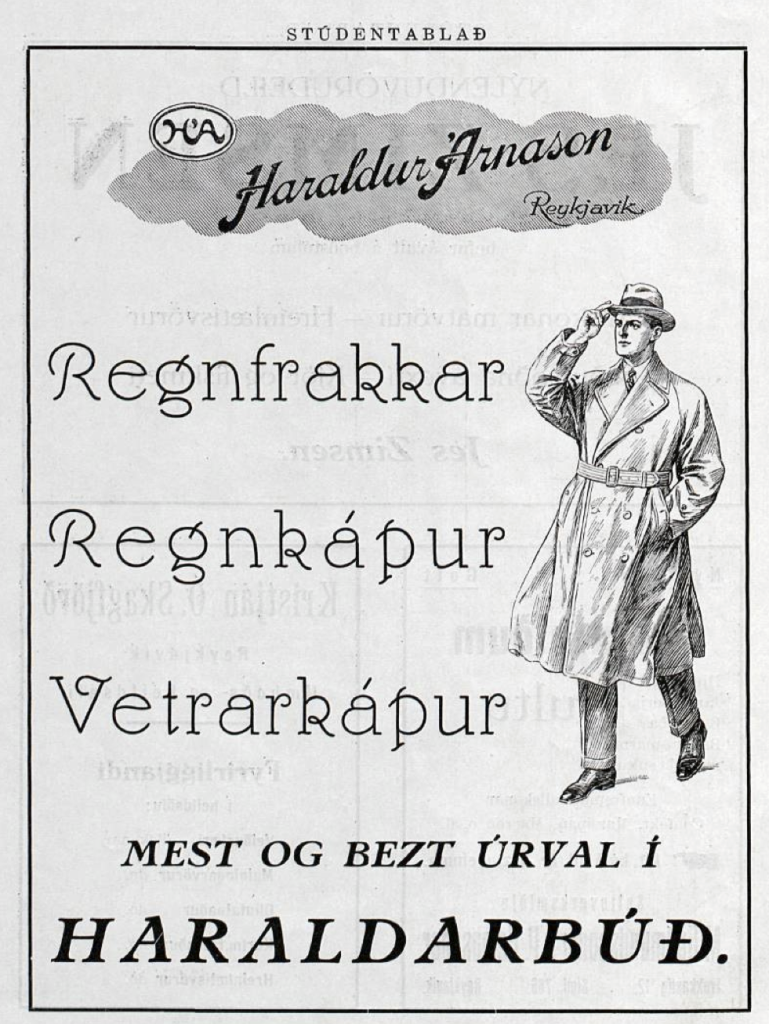 (date) "Rain jackets, raincoats, winter coats. The most and best selection in Haraldur's shop." You can see above that he still used his full-name logo even as he calls it Haraldarbúð below, so I'm not sure if he's actually renamed it at that point or if it's just saying "my shop" instead of "shop name".
The shop's phone number was 219 in (date). In the beginning years the shop was generally open from eight in the morning to eight at night, on weekdays.[1] If Haraldur had to leave for something like a trip, or close early, he often closed the shop at three in the afternoon. The shop was closed all Christmas day and Christmas Eve(?). (possibly on the national day too?)
In 1925 the shop had a few different categories of wares. The first was men's clothing, including hats, suspenders, raincoats, walking sticks, "Manchett" (Manchester / corduroy) shirts, and handkerchiefs. The second was knitwear, including socks and sweaters. Then there was women's clothing, including hats, coats, tófuskinn(?), and shawls.[1]
A drawing of how the shop looked like in 1930, selling clothing for women, men and children, including travelling and sports clothes.
An ad from 1930, advertising perfume, hair tonic, cosmetic powder, hand-cream, toothpaste, soap, and eau de cologne, all from the brand 4711.
By 1955 it included more men's items such as shoes, trousers, jackets, and boy's shoes. They also started selling women's items including skirts, toiletries (ex. soap), women's undergarments, women's socks, and women's sweaters. The last category was furnishings, where they sold rugs and duvet covers. Haraldur's shops were the first ones in Iceland to use a (greiðslukerfi) payment system(?) that he had seen used in England.[1]
(list of items advertised by date)
The shop "Herrabúðin" ("The Mister's Store") opened after Haroldur's shop closed in 1960.[1] However there were at least two other shops in Reykjavík that also sold mostly/entirely men's items during the same time as Haroldur's shops existed.
———————————
Note: * "Manchett-shirts" refers to "Manchester fabric", which is the European term for corduroy. That or it refers to shirts with a sleeve cuff (manschett in Swedish).
Sources:
All unmarked: Timarit.is search for "Haraldur Árnason".
1. (BA thesis) "Lítill gluggi til heimsins: Ágrip af sögu Haraldarbúðar í Reykjavík 1915-1960" by Linda Björk Ólafsdóttir, May 2009. "Little window to the world: a summary of the saga of Haraldur's shops in Reykjavik 1915-1960". Downloadable in the ZIP and available online for free if you Google. This has more info about his personal life and about shops in Reykjavík in general that I didn't talk about here. (Not available in English).
2. "Reykvíkingar: Fólkið sem breytti Reykjavík úr bæ í borg (volume 1)" by Þorsteinn Jónsson, published in 2011. "Reykjavikians: The people who changed Reykjavik from a town to a city" (no English version available). This is a photobook detailing streets in Reykjavík, mostly from the late 1800's to 1910. The first volume covers mostly the streets starting with A, the second volume finishes all of the B's, I think. It cost about 11.500ISK ($100USD) for one volume at the initial price.
3. https://www.mbl.is/greinasafn/grein/722787/ (article on Austustrræti 22)