OBS! Dålig svenska. Receptet kommer från "Alþýðublaðið Sunnudagsblað – 4. juni 1939", en isländsk tidning.
/ This recipe comes from "Alþýðublaðið Sunnudagsblað – 4th June 1939", an Icelandic newspaper.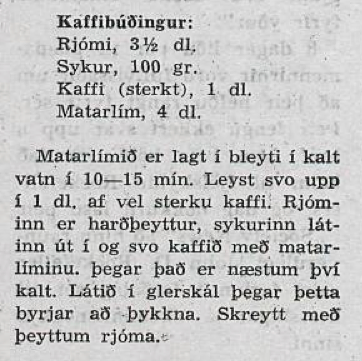 Ingredienser / Ingredients:
Grädde, 3 1/2 dl (whipping cream, 1 1/2 c)
Socker, 100 g (sugar, 6 2/3 T)
Stark kaffe, 1 dl (strong coffee, 1/2 c)
Gelatin till 4 dl vätska (gelatine, however much you need for 1 3/4 c of liquid)
Gelatinen blötläggas i kallt vatten i 10-15 min, sen blandas i kaffet. Vispa grädden kräftigt, sätt sockret i, och blanda med kaffe-gelatinen. När det börjas bli tjock, läggas i en glas form. Sätt vispgrädde ovanpå.
The gelatine is soaked in cold water for 10-15 min, then mix it into the coffee. The cream is whipped hard, the sugar added, and then the coffee-gelatine is added. Set it in a glass bowl when it starts to thicken. Top with whipped cream.