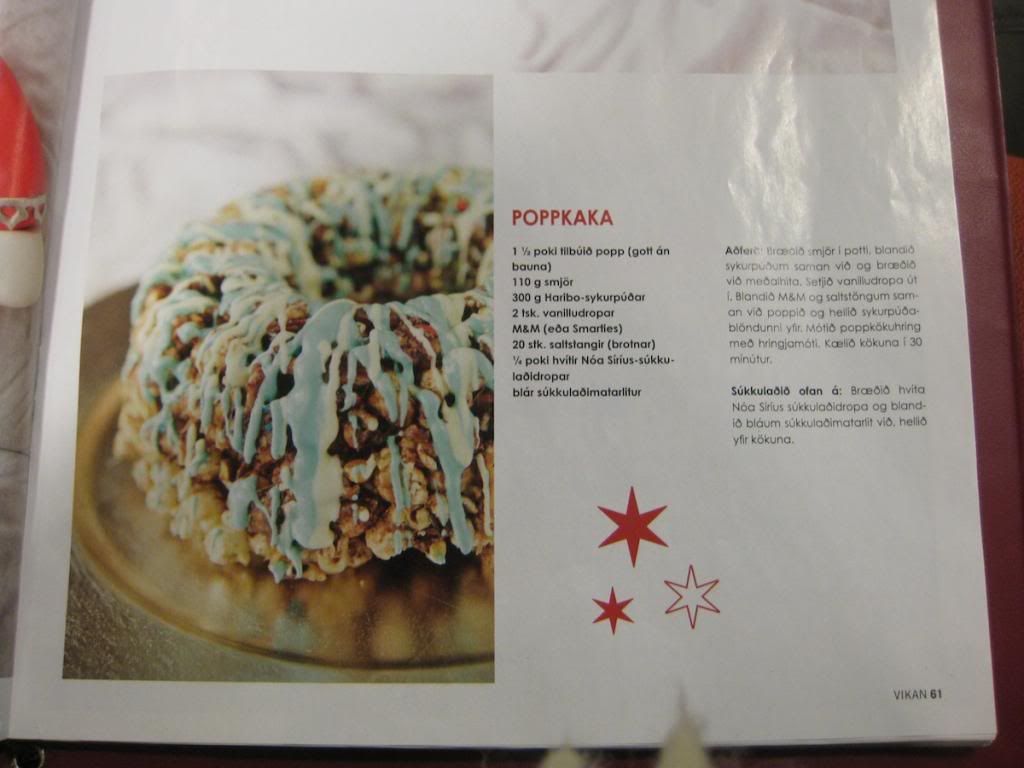 Mi provis traduki recepton… ;_; La recepto venas el Islando.
Krevmaizkuko
300g da glazursukero
110 gramoj da butero
kuirita krevmaizo (sen la grajnoj estus plej bona)
2 tekuleroj/kafkuleroj da vanilfluaĵo/vanilekstrakto (la gusto de vanilfluaĵo estas pli forta ol vanilsukero)
ĉokoladopasteloj
20 rompiĝaj brecoj
blanka ĉokolado
blua manĝaĵokoloro (food-colouring)
Popcorn Cake
pre-popped popcorn (best without kernels)
110g butter
300g Haribo powdered sugar
2t vanilla extract
M&Ms (or Smarties)
20 pretzel sticks (broken)
1/4 bag white Nóa Síríus chocolate drops (these are unique to Iceland as far as I know, just use small-chopped chocolate pieces instead – a bit smaller than half the size of chocolate chips)
Blue chocolate food-colouring (in Iceland this comes in little bottles pre-mixed, but you can just add regular food colouring to the melted white chocolate instead)
Instrukcioj:
Fandu boteron en kuirpoto. Miksu la glazursukeron kune kun la boteron, je meza varmo, ĝis la glazursukero estas fanda. Miksu vanilofluaĵon en la kuirpoto. Miksu la ĉokoladopastelojn, krevmaizon kaj brecojn kune. Elverŝu la miksaĵon de la kuirpoto sur la krevmaizomikasaĵo. Muldu la novan mikasaĵon je kukomuldilo. Malvarmetiĝu la kukon dum ĉirkaŭ 30 minutoj.
La ĉokolado sur la kuko:
Metu la ĉokoladon blankan en glaso. Metu la glason en kuirpoto (aŭ fritilo) kun akvo. Fandu la ĉokoladon. Miksu la bluan manĝaĵokoloron kune kun la ĉokoladojn.
Method: Melt butter in a pot, mix the powdered sugar in and melt on medium heat. Put the vanilla extract in. Mix the M&Ms and pretzel sticks together with the popcorn and pour the powdered sugar blend over top. Mould it into a popcorn ring with a ring mould (also called a Jello or bundt cake-mould). Let the cake cool off for 30 minutes.
The chocolate on top: Melt the white Nóa Síríus chocolate drops and mix the blue chocolate food colouring in. Pour over the cake.