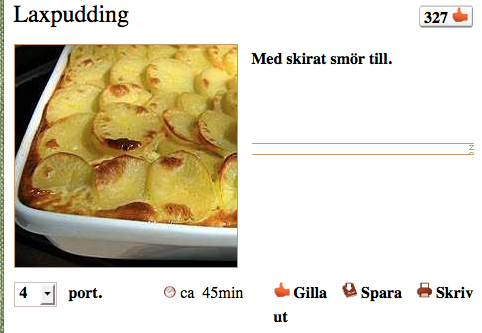 Note: Salmon pudding is seen as typical, traditional Swedish food.
This was my first ever translation of anything from Swedish. The original recipe had steps that didn't logically make sense, so I'm mostly cobbling together three recipes:
https://www.alltommat.se/recept/Laxpudding-1606
https://receptfavoriter.se/recept/laxpudding.html
https://www.tasteline.com/recept/laxpudding
xxx
Salmon pudding: serves four
800g (or 10-20 mini) potatoes
1 T butter
400-500kg salmon file, scaleless and de-boned ("you can use plain, gravad or smoked salmon")
a leek
salt and white pepper (the Nordics use a lot of white pepper but I think substituting black pepper is fine)
3 eggs
2 dl milk
1 dl whipping cream
1 lemon for garnishing
fresh dill for garnishing, finely chopped
1. Peel and boil the potatoes as normal. Set the oven to 200°C. Butter a 1-1 1/2 liter baking dish.
2. Thinly slice the potatoes. Cut the salmon file into 2-3cm thick sheets/slices (if it isn't already thinly sliced). Chop up the leek and dill.
3. Put a layer of potatoes into the bottom of the dish. Strew half the leek over top.
4. Lay down the salmon slices in a compact layer. Strew the rest of the leek and some dill over top.
5. Lay the rest of the potatoes over top.
6. Whisk together eggs, milk, salt, white pepper, and cream. Pour this egg custard into the baking form. Bake in the middle of the oven for 45-55 minutes. Test with a toothpick/"stick" that the potatoes are done and the egg custard is stiff the entire way through in the middle.
7. Melt the butter in a little skillet. Use it as something to strew over the salmon pudding if you cut it into servings. Separate the lemon into slices(?) and serve it with the salmon pudding. Garnish the salmon pudding with some freshly-chopped dill.